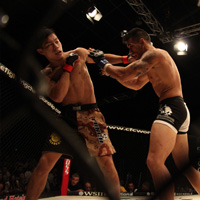 Four of the boys fought at CFC 16 just gone by with some great results.
Chris Patterson started his MMA career with a win showing some great striking skills. Chris displayed a series of punches, kicks and knees, as well as an huge elbow which sent his opponent to the mat where Chris was able to continue with strikes till the ref stopped the fight. Chris via TKO in the first round.
Charlie Sukkar continued his winning ways with an armbar submission. After some clinch work and a takedown from his opponent, Charlie ended up on his back, but never panicked and was able to display some good jiu jitsu and get  an armbar off his back. His opponent tried to slam his way out of it, but all that did was accelerate the inevitable. Charlie vis armbar in the first round.
Alex "Bolo" Le came up against a seasoned striker and the fight was a war for three rounds. Plenty of strikes, from punches, kicks and knees. Bolo got a few takedowns as well which would have favoured him on the scorecards. Unfortunately the decision didn't go his way, however his fight was easily the Fight of the Night.
Last up was Josh "Major" Payne against a seasoned striker in Jason Harris. This was anticipated to be a standup war, however Harris realised that Josh would have his way with him on his feet, and managed to get Josh on his back via a takedown. His opponent was able to start some ground and pound which were hitting their marks, however Josh stayed cool and was able to secure a triangle choke. Harris tried to slam his way out of it and Josh was able to start attacking the arm as well eventually forcing Harris to submit. Josh wins via armbar in the first round.